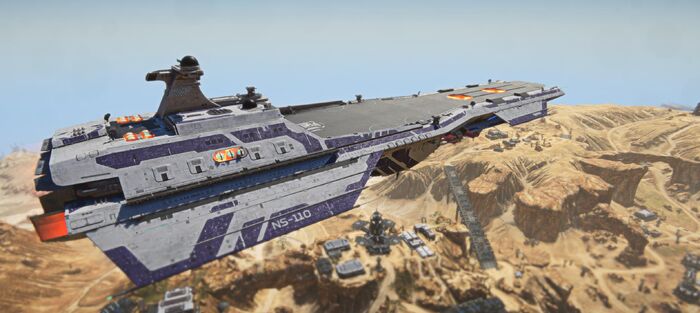 The Bastion Fleet Carrier is an Auraxis-only war asset available to outfits. It is crafted through the combination of several other parts, totaling a cost of 70 

. It can only be called down on Amerish, Esamir, Hossin, or Indar, using the Bastion terminal located at any warpgate.
An Empire's might and determination, symbolized in metal and voiced through cannon fire. The Bastion Fleet Carrier descends from orbit, ready to wage war across the battlefields of Auraxis.
Only one carrier can exist per faction at any given time on a continent. Successfully calling down a carrier will summon the airship above the warpgate at which it was called, placing the player that called it in the driver's seat once the carrier has fully entered the battlefield.
The Bastion Fleet Carrier is unlike any other vehicle found on the battlefields of Auraxis. Impervious to any forms of direct damage and toting four pilot-controlled Mauler Cannons alongside nine player-controlled turrets for anti-air and anti-ground usage, the carrier is a massive threat to all targets within range for its hour-long lifespan.
The carrier features 48 total seats. One is reserved for the pilot of the carrier, five for anti-aircraft Bastion CDWS (and CIWS) gunners, and four anti-ground Bastion Battery gunners. The remaining 38 seats provide no function aside transport. Any member of the carrier's parent outfit can spawn into the airship at any time, and attempting to eject will start the process for spawning an Interceptor.
Acquisition
[
]
As a war asset, the Bastion Fleet Carrier can only be created and called down by members of an Outfit within which they have the requisite permissions.
The Bastion Fleet Carrier can only be crafted after a multi-stage process where the outfit must craft its four components in turn before finally being able to craft the carrier itself, a process which takes a minimum of 49 hours to complete.
The following components must be crafted in the order they are listed, and only once each of the four are crafted can the carrier itself be crafted at no additional cost—just an additional one hour build time.
| | | |
| --- | --- | --- |
| Component | Build Cost | Build Time |
| Bastion: Response Vehicles | 10  | 12 hours |
| Bastion: Hull Reconstruction | 15  | 12 hours |
| Bastion: Support Systems | 20  | 12 hours |
| Bastion: Rearm and Refuel | 25  | 12 hours |
Once the crafting process has been completed, calling down a Bastion Fleet Carrier is as simple as interacting with the appropriate terminal at any warpgate the player's faction owns on any eligible warzone continent—provided there are no other Bastion Fleet Carriers currently planetside for that player's faction already. Successfully calling down a carrier will alert all players on that continent to the fact, announcing the calling player's name and their outfit.
Features
[
]
Controls
[
]
Due to its colossal size, the Bastion Fleet Carrier is not commanded like a typical vehicle. The pilot must use the waypoint menu to direct the airship, placing "Bastion Move" and "Bastion Attack" waypoints on the map to control the carrier's movement.
When moving the Bastion, the carrier will turn towards the waypoint and then immediately move at a constant rate until it reaches the destination. If the destination is at a significantly higher or lower altitude than the carrier's current location, it will climb or descend as appropriate to remain relatively far from ground level.
When using the attack command, the airship's Mauler Cannons will begin to constantly fire at the target location, for so long as the carrier remains within 1000 meters of the waypoint.
If the pilot seat becomes empty at any time, all active commands are immediately dropped and the carrier will stop moving and firing.
Gunners
[
]
The Bastion Fleet Carrier features nine player-controlled turret positions around the top and bottom decks of the airship.
Stationed across the top deck of the carrier are two Bastion CIWS and a Bastion CIWS anti-aircraft gatling turret. These turrets deal high damage to aircraft, having excellent accuracy and generous heat-based ammunition bars.
The underside of the airship features a far larger array of turrets, toting two additional Bastion CIWS anti-aircraft turrets, as well as four Bastion Battery anti-ground turrets. The Mauler Cannons, commanded by the pilot, can also be seen here.
These turrets take up seats two through ten on the carrier.
Spawns and Interceptors
[
]
Any member of the outfit that called down the Bastion Fleet Carrier can, at any time, spawn directly into the Bastion. Including the pilot and gunner seats, the carrier can hold up to 48 players at once time, and seats will be filled in order of entry, with players able to request seat swaps as in any other vehicle.
The player does not have to be in the same squad or platoon as the pilot to spawn into the carrier, only the same outfit.
Pressing the Exit Vehicle key (E by default) while in any seat of a carrier will place the player into a queue to spawn an Interceptor.
Destroying a Bastion
[
]
Bastion Fleet Carriers, while possessing a health pool of 100,000, are not damaged/destroyed like other vehicles. Instead, attackers are required to destroy all eight Hardpoints located across the carrier.
Each hardpoint features a large 17,500 health pool, with an additional 2500 pool of shielding which begins to regenerate 20 seconds after receiving damage. All damage hardpoints receive to their health pool is permanent, and cannot be repaired by any means. The destruction of a hardpoint deals 12,500 damage to the carrier's primary health pool, with the elimination of all eight hardpoints destroying the airship after a brief animation, causing it to explode to deal massive damage to all nearby infantry and vehicles—allies and enemies alike.
Hardpoints can only be damaged by hostile players, and are immune to friendly fire.
The Bastion's hardpoints are spread across its hull—two located on the carrier's belly, and the remaining six scattered across the top deck of the airship. The latter six hardpoints are located out of reach of ground fire, however can be hit with the penetrating beam of Skylance Cannons from Colossus Heavy Tanks.
Hardpoints are counted as aircraft for lock-on mechanics, such as when using Tomcat A2AM Pods, and can thus be locked onto with said weaponry.
Captain Weapons
[
]
Mauler Cannon
Fire Rate:
12 RPM
Muzzle Velocity:
250m/s
Effective Range:
Long
Fire Modes:
Semi-Automatic
Damage[?]
Max Damage:
1000
Min Damage:
1000
Max Indirect Damage:
1000 before 8m
Min Indirect Damage:
750 at 20m
Reload Speed
Reload Speed:
?
Top Deck Weapons
[
]
Bastion CDWS
Fire Rate:
600 RPM
Muzzle Velocity:
1000m/s
Effective Range:
Medium
Fire Modes:
Automatic
Damage[?]
Max Damage:
150 before 100m
Min Damage:
125 after 500m
Ammunition
Magazine Size:
72 (equivalent)
Ammunition Pool:

Accuracy[?]
Cone of Fire:
0.5
Bastion CIWS
Fire Rate:
600 RPM
Muzzle Velocity:
1000m/s
Effective Range:
Medium
Fire Modes:
Automatic
Damage[?]
Max Damage:
150 before 100m
Min Damage:
125 after 500m
Ammunition
Magazine Size:
72 (equivalent)
Ammunition Pool:

Accuracy[?]
Cone of Fire:
0.5
Underside Weapons
[
]
Bastion CIWS
Fire Rate:
600 RPM
Muzzle Velocity:
1000m/s
Effective Range:
Medium
Fire Modes:
Automatic
Damage[?]
Max Damage:
150 before 100m
Min Damage:
125 after 500m
Ammunition
Magazine Size:
72 (equivalent)
Ammunition Pool:

Accuracy[?]
Cone of Fire:
0.5
Bastion Battery
Fire Rate:
180 RPM
Muzzle Velocity:
250m/s
Effective Range:
Long
Fire Modes:
Automatic
Damage[?]
Max Damage:
500
Min Damage:
500
Max Indirect Damage:
250 before 1m
Min Indirect Damage:
50 at 4m
Ammunition
Magazine Size:
6 (equivalent)
Ammunition Pool:

Accuracy[?]
Min Cone of Fire:
0
Max Cone of Fire:
0.33
Bastion Fleet Carrier/Cosmetics
The victorious outfit in an Outfit War now receives a free Bastion Fleet Carrier (this reward is mostly a placeholder that will be changed later.)
The Bastion's deployment terminal now has a unique new visual.
Fixed an issue where Bastions could be instantly destroyed by physics collisions.
Drop pods should no longer get stuck inside Bastion collision.
Fixed visible texture seam on top of some Bastion turrets.
Glaive IPC can no longer deal damage directly to the Bastion (but may still damage its hardpoints.)
Outfit Armory
[
]
Outfits now have access to the "Bastion" permission type, and all Bastion-related components now use this permission instead of Expedition permissions.
Crafting Adjustments
[
]
Each piece of the Bastion now crafts in 6 hours, opposed to 12 prior.
Pieces of the Bastion must now be crafted in the following order.
Hull Reconstitution
Support Systems
Rearm and Refuel
Response Vehicles
Dev Note: The intention of these changes are to create a buffer of time where resources won't feel "wasted" if they're not going directly toward funding a Bastion. This does slow the rate at which a Bastion can be pulled for those outfits who can easily harvest resources, and we can readjust again in the future if Bastions appear too infrequently on the battlefield.
Now have a unique model.
No longer deal damage or impulse through one-way collision (like spawn room shields.)
Maximum Blast Damage from 1250 to 1000
Blast damage resistance type from 9 (Tank Mine) to 23 (Air to Ground Warhead)
Dev Note: These changes should create a better window of survivability for vehicles aware of an incoming barrage, and allows for certain defensive slots (like Flanker Armor) to help mitigate these attacks.
Misc. Bastion Changes
[
]
Bastions now generate Power Projection score while over VS territory. Bastion Uplink Terminal has been renamed "Command Terminal," and has new UI visuals. Seats 3 - 6 no longer show empty ammo pools in the HUD seating chart. Added a missing panel to the starboard side of the Bastion.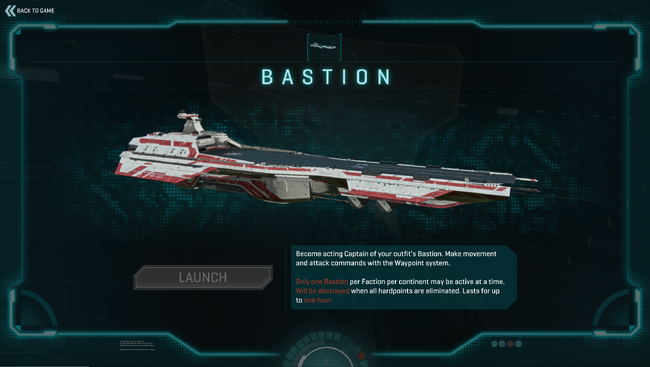 Outfit Wars - Alpha Cycle 2 Ruleset
[
]
Spawning a Bastion for your Outfit immediately grants you 1000 Outfit Wars score during a Qualify phase.
Destroying a Bastion weakpoint now awards all opposing Outfits that have at least one member within 500 meters with 100 Outfit Wars score if done during an active Qualify phase.
Misc. Fixes, Changes, and Additions
[
]
Fixed an issue where Bastions could be damaged without attacking the hardpoints.
Bastion terminals now match the color of their respective faction.
Resistances
[
]
Bastion weakpoints from 15000 Health/5000 Shield to 17500 Health/2500 Shield.
Bastion weakpoint shield recharge cooldown from 12 seconds to 20 seconds.
Resist type 5 (light anti-vehicle) from -100 to -150.
Resist type 7 (tank cannon) from -25 to -200.
Resist type 23 (air to ground warhead) from 0 to -25.
Dev Note: Changes here should make the Bastion a more susceptible to chip damage, and increases damage from more weapon types.
Bug Fixes
[
]
Mauler Cannons now use a different icon on the death screen.
MAX units can no longer pilot the Bastion Fleet Carrier, or its Interceptors.
Bastion Interceptors now have consistent first and third person projectile origin.
Fixed an issue where Bastion Interceptors could swivel their weapons in first person.
Misc. Changes, Fixes, and Additions
[
]
!! Speculative fix for Bastion weakpoints going missing.
We've removed the ability for Bastions to generate Empire Strength, as players don't seem to need the additional motivation to bring Bastions into combat areas. This change also addresses an issue where the Power Projection meter could get stuck when a continent would re-open. To bridge the gap, and add more strategic targets, we've added three bases on each continent (in additional to normal territory gain and facility captures) that will contribute additional Empire Score.
Optimized performance and bandwidth usage of War Assets and Bastion Fleet Carrier. Please report any noteworthy changes in behavior with these features.
Galaxy and Bastion

A2A lockon resistance (type 45) from -125 to -100.
Dev Note: For the Galaxy, this is a small change in the realm of being able to survive one extra Tomcat lockon missile, but with a typical repair convoy, this small change should pay dividends for overall survivability. For the Bastion, the goal is to to reduce some of the extreme value lockons currently have against the weakpoints, though these changes don't dethrone the weapon by any means.