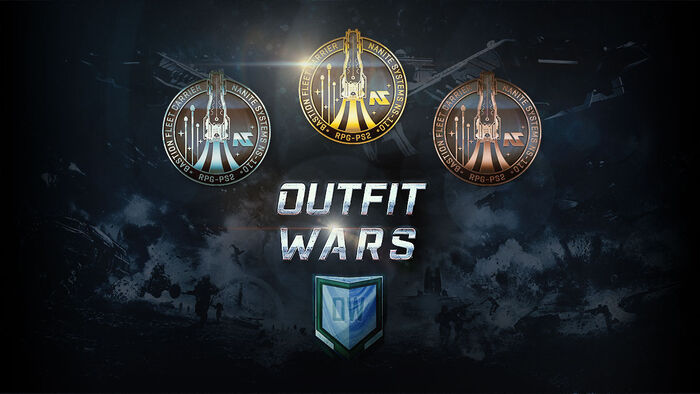 Outfit Wars is a tournament structure for competitive Outfits in PlanetSide 2. Outfits from every Empire and server region have the opportunity to opt-in to a seasonal Qualification cycle, before squaring off in epic GvGvG battles on Desolation, an asteroid Battle Island built for competitive play and far away from the planet Auraxis. Outfits compete in Qualifiers and Playoffs, with the top outfits from each region earning the right to represent their Empire in the Championship.
Rules & Regulations
[
]
Outfit Wars matches are epic 48v48v48 player events between all three factions on Desolation, an asteroid belt harboring ancient Vanu relics located in deep space, far from the war on Auraxis. Matches will begin with a 20-minute deployment period for each Outfit to get organized beneath a protective shield near their command center. After deployment ends, a 90-minute alert will kick in to determine the fate of the match.
The objective for each Outfit is to capture and control critical territories on Desolation – Vanu Obelisks – which accrue points for each second under that Outfit's control. The only way to earn points is to capture and hold those obelisks, which will require exceptional coordination, skillful teamwork, and decisive tactics, with two other formidable Outfits warring over the same ground! The first Outfit to 750 points (or the Outfit with the highest score at the end of the alert) will have won the match on behalf of their Empire.
Participating Outfits will have their armory of War Assets available (with the exception of the Bastion Fleet Carrier), and can continue to craft Assets during the match. Each Desolation Command Center is fitted with a Cortium Silo housing 75,000 Cortium, along with pre-installed vehicle and air pads capable of spawning all standard vehicles. The Construction System can be used across all of Desolation, and Cortium nodes can be found scattered throughout. However, resources are scarce (you do not use nanites to pull vehicles, and Cortium is limited) so spend wisely! Time is your enemy, and your opponents will show no mercy if you burn through all of your resources.
Each Outfits is limited to 48 members, though if a player drops they can be replaced by someone warming the bench.
Victorious Outfits from each match (3 Outfits from each server region - 15 total) will earn a completed Bastion Fleet Carrier for their Outfit. And as a "thank you" for your platoon's hard work, the winning team members on Desolation will also be granted a special title to commemorate their valorous trials in the Alpha 1 preseason finals of Outfit Wars!
Unspoken Code of Conduct
[
]
In Alpha Preseason 3, during a Qualifier match on Connery, two participating outfits willingly and knowingly teamed up against the third outfit, resulting in a 2v1. Wrel was quick to release a statement, saying that activities like this are considered "griefing" per Daybreak Games' PlanetSide 2 Code of Conduct:
"While there is to be a certain amount of focused fire and tense alliances expected in a 1v1v1 format, ... we also expect each faction to be playing to win. It goes contrary to the spirit of tournament format, and the game in general, when teams outright refuse to fight one another."
— Michael "Wrel" Henderson, Lead Developer (2017–present) and co-producer (2021–present) for PlanetSide 2
As a result, he spoke of possible punishments for outfits engaging in such behavior, including but not limited to:
Penalties to placement or scoring values in the current Outfit War.
Disqualification of the Outfit or its members in the active season with no rewards.
The inability to enlist in future Outfit Wars.
Suspensions or banning the accounts of Outfit Leaders or its members, which includes from the main game.
Disbanding of an Outfit.[1]
Seasons
[
]
Alpha Preseason 1
[
]
The Alpha Preseason 1 finals were held Saturday, April 11, 2020, between 45 Outfit finalists.
Each server featured 3 Outfit Wars matches (Gold, Silver, and Bronze) between the top-3 qualifying Outfits from each Empire within the region. Matches aired throughout the day on twitch.tv/planetside2, via hosted a squad of PS2 community streamers equipped with spectate tools (See casters).
Alpha Preseason 2
[
]
Alpha Preseason 2 of Outfit Wars finals were held on May 16, 2020, at 8:00 PM, 8:30 PM, and 9:00 PM server time for the gold, silver, and bronze leagues of each server, respectively. The qualification phase was different from Alpha Preseason 1 in that they took place the weekend before finals from Friday, May 9 through Sunday, May 11, from 2:00 PM server time through 10:00 PM server time each day.
Alpha Preseason 3
[
]
Alpha Preseason 3 of Outfit Wars was originally scheduled to take place sometime after the June 2020 game update.[2] However, after the first two alpha preseasons, it was announced that the entire system would be overhauled. On November 20, 2020, Wrel announced that the final preseason of Outfit Wars will take place in early 2021 as an official Season 1 was in the works. On January 28, 2021, the mechanics of Alpha Preseason 3 of Outfit Wars were put on the PTS for testing.[3]
The new mechanics of Outfit Wars consist of four phases: Enlistment, Qualifiers, Playoffs, and Championship. All outfits that enlisted would participate in weekly battles on Desolation in during the Qualifiers; the top six outfits from the Qualifiers would participate in weekly Playoff matches; and, the top three outfits from each empire in the Playoffs would participate in the Bronze, Silver, and Gold Championship matches.[4] The championship matches were held on March 27, 2021, starting at 8:00 PM server time, except on SolTech, which started at 9:00 PM server time.[5]
Results
[
]
The tables below only show the outfits who participated in the Championship matches and do not reflect the total number of outfits that participated in that season's Outfit War.
Alpha Preseason 1
[
]
SolTech
[
]
Results
League
Rank
Outfit
Score
Gold
1
[YLBT] YLB Hero Army
500
2
[MUvs] MUone
452
3
[HHzs] HH WAR LEGION1
437
Silver
1
[PkaQ] Welcome to the world of Pikachu
500
2
[CNOP] CNOP
392
3
[RWCN] RWCN
360
Bronze
1
[CNVA] CHINA VNUA Outfit
500
2
[BMLx] Blue Moonlight 2004
344
3
[CNRT] RedThunderCHN
288
Cobalt
[
]
Results
League
Rank
Outfit
Score
Gold
1
[T] Toxic Zergsurfers
500
2
[91AR] 91st Armored NC Regiment
70
3
[3EPG] ZERG RUSS
49
Silver
1
[MOOD] The Boys
500
2
[RE4] THE RE4PERS
458
3
[SON5] Sons of Einherjar 
210
Bronze
1
[AXMI] Auraxium Minutemen
500
2
[TRXF] Terran Strike Forces
289
3
[TRID] Trident
196
Miller
[
]
Results
League
Rank
Outfit
Score
Gold
1
[BHO] BoNeHeAdEdOvErLoRdS
500
2
[K] Sector JKU TR
462
3
[THVA] NewOutfitName
282
Silver
1
[BRTD] BetterRedThanDead
500
2
[DIG] Dignity of War
300
3
[TATF] Training Alliance Task Force
182
Bronze
1
[1RPC] 1e Regiment des Para Commandos
500
2
[FU] Freelancers Union
464
3
[SIN] Singularity of Dark Stars
364
Emerald
[
]
Results
League
Rank
Outfit
Score
Gold
1
[BWAE] BUSHIDO WAE
500
2
[AODR] Angels of Death TR
319
3
[GSLD] The Guardian Shield
303
Silver
1
[VCO] Voodoo Company
500
2
[SKL] SoKaars Legion
480
3
[1TMI] 1st Terran Mobile Infantry
375
Bronze
1
[VKTZ] Vany Sovereign KatZ
500
2
[HZN] Clan Horizon
350
3
[XSIL] Dolor Exsilium
254
Connery
[
]
Results
League
Rank
Outfit
Score
Gold
1
[P1GS] SPACE PIGS
500
2
[DPSO] Dropping Purple Smoke
437
3
[00] Recursion
196
Silver
1
[HMRD] Drunk Vision
500
2
[WTAC] Western Tactical
477
3
[TWC2] THE WILD CARDS
371
Bronze
1
[CIK] BDogs Communication is Key
500
2
[FEFA] IRON FORGED ALLIANCE
464
3
[BRAC] The BloodRaven Clan
358
Alpha Preseason 2
[
]
SolTech
[
]
Results
League
Rank
Outfit
Score
Gold
1
[YLBT] YLB Hero Army
750
2
[HHzs] HH WAR LEGION1
661
3
[CNOP] CNOP
294
Silver
1
[RAVE] Rave
750
2
[RvnX] The Last Ravens
347
3
[TCFB] ThunderCougarFalconBirds
335
Bronze
1
[RWCN] RWCN
750
2
[3KDC] Band of Borthers Asia
717
3
[BSNE] Black Sun Empire
384
Cobalt
[
]
Results
League
Rank
Outfit
Score
Gold
1
[VS] Terran Republic
750
2
[BOIS] The Boys
289
3
[TRXF] Terran Strike Forces
130
Silver
1
[BROS] Brutal Onslaught
750
2
[TRID] Trident
539
3
[91AR] 91st Armored NC Regiment
0
Bronze
1
[RE4] THE RE4PERS
750
2
[RMIS] RedMist
566
3
[URGE] Urge to Confess
540
Miller
[
]
Results
League
Rank
Outfit
Score
Gold
1
[DIG] Dignity of War
750
2
[BRTD] BetterRedThanDead
719
3
[BHO] BoNeHeAdEdOvErLoRdS
675
Silver
1
[KOTV] Keepers Of The Void
750
2
[ELME] Elementary Beginnings
337
3
[TATF] Training Alliance Task Force
304
Bronze
1
[FRMD] Formido
750
2
[EDIM] Emerald Immersion
642
3
Ikorg
622
Emerald
[
]
Results
League
Rank
Outfit
Score
Gold
1
[VCO] Voodoo Company
750
2
[AODR] Angels of Death TR
693
3
[SKL] SoKaars Legion
688
Silver
1
[8SEC] Eight Seconds
750
2
[PRAE] Praetorians VS
704
3
[1TMI] 1st Terran Mobile Infantry
650
Bronze
1
[KN1] Kneel No One
750
2
[2RAF] 2nd Republic Assault Force
744
3
[VKTZ] Vanu Sovereign KatZ
738
Connery
[
]
Results
League
Rank
Outfit
Score
Gold
1
[0O] Recursion
750
2
[CIK] BDogs Communication is Key
338
3
[FEAR] No Fear
281
Silver
1
[FooI] GOBLIN TRIBE
750
2
[DGia] Army of the Dim Giant
413
3
[TWC2] THE WILD CARDS
341
Bronze
1
[R18] Renegade 18
750
2
[P1GS] SPACE PIGS
602
3
[DPSO] Dropping Purple Smoke
507
Alpha Preseason 3
[
]
SolTech
[
]
Results
League
Rank
Outfit
Score
Gold
1
[STIM] Stim Pack
750
2
[RvnX] The Last Ravens
747
3
[HHzs] HH War Corps VS
740
Silver
1
[0Tt] Over Threat
750
2
[TCFB] ThunderCougarFalconBirds
285
3
[DOGE] Doggie Commandoes
283
Bronze
1
[CSZC] THOC
750
2
[WIPL] catcher
642
3
[BSNE] Black Sun Empire
610
Cobalt
[
]
Results
League
Rank
Outfit
Score
Gold
1
[TFDN] The Foundation
750
2
[AFSX] 5 IQ TACTICS
748
3
[ALPS] Alliances Please
714
Silver
1
[EU] Euphoria Undiscovered
750
2
[BROS] Brutal Onslaught
735
3
[MUMS] Members of the Ultimate Mummy
611
Bronze
1
[2TKA] SECTION FRANCOPHONE
750
2
[TRID] Trident
390
3
[CoBN] Cobalt Business Network
280
Miller
[
]
Results
League
Rank
Outfit
Score
Gold
1
[BRTD] BetterRedThanDead
750
2
[VCBC] Cream Bun Community
674
3
[HRGC] Hurricane Resurgence
643
Silver
1
[RU] Russian Alliance
750
2
[1RPC] 1e Regiment des Para Commandos
678
3
[KOTV] Keepers Of The Void
674
Bronze
1
[DIGT] Dignity of War Tactical
750
2
[R18M] R18 Miller
575
3
[FMRD] ask sebri to change
524
Emerald
[
]
Results
League
Rank
Outfit
Score
Gold
1
[2RAF] 2nd Republic Assault Force
750
2
[KN1] Kneel No One
681
3
[69KD] Go Go Meme Rangers
654
Silver
1
[H0UR] Rifles and Rezzes
750
2
[VKTZ] Vanu Sovereign KatZ
704
3
[RCN6] Recon Team Six
650
Bronze
1
[GSLD] The Guardian Shield
750
2
[YEEB] Yeet Cannons
695
3
[SKL] SoKaars Legion
685
Connery
[
]
Results
League
Rank
Outfit
Score
Gold
1
[RALI] Rebel AlIiance
750
2
[0O] Recursion
699
3
[FooI] GOBLIN TRIBE
686
Silver
1
[DPSO] Dropping Purple Smoke
750
2
[R18] Renegade 18
709
3
[ASTI] Astarties
707
Bronze
1
[Cya9] Cyanine
750
2
[HMRD] Drunk Division
732
3
[VIKG] Vikings of Connery
665
Casters
[
]
External Links
[
]
References
[
]